This past Saturday (9/9/17) Trey Ratcliff organized a photowalk in Santa Monica. Everybody met at Crescent Park in Santa Monica.
Santa Monica, CA Sept. 9th, 2017
Parking is horrendous in Santa Monica and I was quickly reminded why I can't stand visiting there. You can't park on any of their side streets unless you have a permit, so this time I just paid $10 to park right near the beach. Paying for parking always leaves a bad taste in my mouth, because I don't mind the walking, as long as I have places to park. Not being able to park freely on side streets just seems unamerican to me. The event was close to the lot so it was very convenient.
there was a small gathering of people at the 6pm meeting time.
Everybody stood around making small talk and admiring each other's gear. Some of the attendees had only a Smartphone, while others brought what seemed to be their entire kit. My friends who were supposed to meet me there had to cancel. One of them, an avid runner, was running the Santa Monica Classic and the other, an avid Dodgers fan, scored a Dodgers ticket.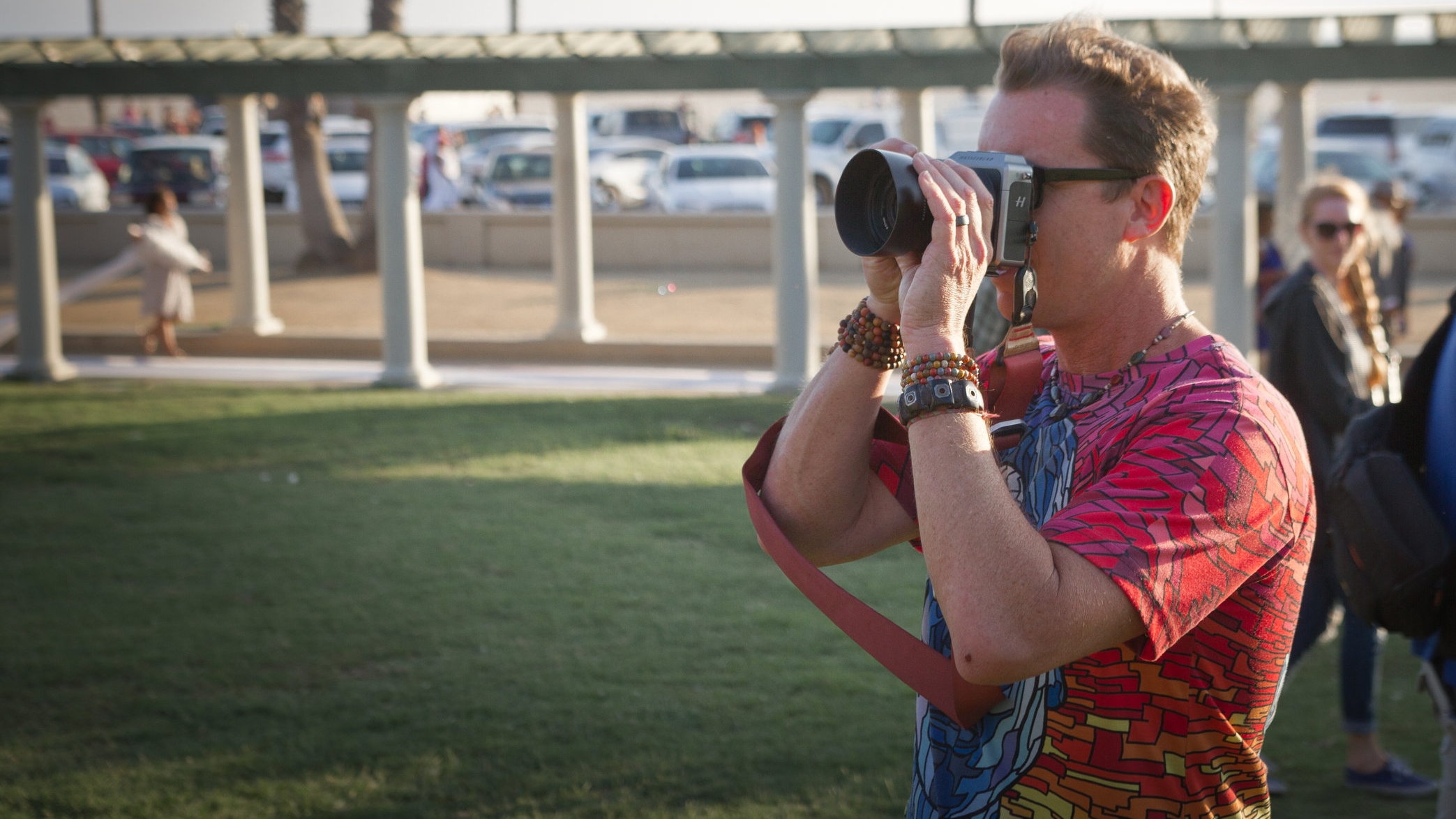 "I started taking pictures immediately." -Digital Ninja®
It was kind of cool to see what other photographers were carrying and how they carry it all. Every manufacturer from your Amazon Wish List was represented; Nikon, Canon, Sony, Manfrotto, DJI, Peak Design, etc. There was one Drone Pilot and he had a DJI Phantom, but I couldn't decipher the model/version. At some point a kid from Australia (?) spoke and let us know that Air New Zealand had sponsored the event. There were a couple of representatives from the airline and they had a table set up with water and snacks. This event was free, so the having refreshments and food was an added bonus. Then Trey showed up in this really cool shirt and talked about his photography and his experience. In all honesty, I had no idea who he was, only looking him up briefly 5 minutes before the event. His photography is pretty amazing. He does a lot of HDR photography, but his portrait work is more organic looking. He also has some kind of program for HDR Photography called Aurora too.
When you shoot, you take a series of images, bracketing higher and lower exposure settings, in order to create one amazing composite image.
I've been trying to carry less equipment and was carrying my old Canon 7D (v1), Canon 10-18mm (4.5-5.6), Sigma 30mm (1.4), and Sigma 18-35mm (1.8). Additionally, I carry an Ultrapod II mini tripod, IR Remote, extra battery and extra CF card. Sometimes I'll add a single Yongnuo Flash and Flash Commander. All of this is expertly fits into my Peak Design Everyday Backpack (20L) along with a Gracie Jiu-Jitsu jacket, wallet, sunglasses, small pen, and a metal water bottle. It was a good load because I kept it light, was able to move quickly, and it was all easy to manage.
We stepped off around 6:30 or so and made our way towards the beach. Every so often Trey would stop and explain what he looks for, why he took a picture, and what interested him in our current environment. It was quite a site to see an army of (at least) 100 photographers with all of their equipment assaulting the beach. He encouraged everyone to not be shy and just take photos. There was a wedding that was just finishing up where a group of young children were blowing bubbles and they were swarmed!!! As we meandered around the beach, everybody started taking pictures.
There was another event setting up and/or taking place on the beach called mindtravel.com. It was still daylight out so I snagged some photos near their group. There were these two really happy women talking to each other while they held some aqua/turquoise material in the wind. The flowing color of the fabric caught my initially, but their happiness is what kept me there. They didn't seem to mind me taking their picture either.
I'm one of those types that takes the pic regardless.
In public spaces, I tend not to ask permission.
While we walked, I found myself either ahead of, behind, or off to a flank from the group.
It was partly to ensure I was getting different pics.
Then the sun went down.
Wow.
It really is an amazing event out there. There aren't any obstructions and it was just a magical sunset. There was kind of this crappy cloud that cut across the top of the sun for a while though. It's one of the few times I can't get the Sunset a perfect ten, because of that one shi**y cloud.
The lot near the beach closed at 8pm and I didn't know if they close the gate or if they just don't have personnel for security afterwards. Not wanting to find out what would happen, I left the group as they made their way to the Santa Monica Pier. As the "Photo Mob" went topside, I went underneath for a bit. Holy scary. It gets really dark under there-physically and maybe figuratively?
Keeping an eye on my watch, I made sure to start hoofing it back with a good amount of time to spare. That's when I came upon the pianist Murray Hidary performing at the mindtravel.com event.
It was so quiet, but there were all these people around, and their heads were glowing that bluetooth glow. The setting made for some interesting pictures, so I broke out my camera and started taking some shots.
It's really hard to take night shots when its pitch black, luckily there was enough light left and the lights they did set up helped. You don't really want to use a flash either. Well, you want to, but you shouldn't.
Nobody likes the obnoxious Paparazzi Photographer.
another photographer, was walking his dog.